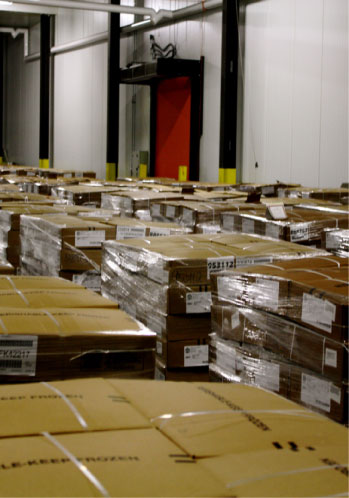 Let us handle your Dry Storage needs. We have a state of the art 500,000 + Sq. Ft. Commercial / Industrial warehouse with 24 truck docks and rail service.
We offer competitive rates, computerized inventory control and reporting. Our warehouse is equipped to handle traditional dry goods, food products, drums, and totes. Our facility provides security and pest control services to keep your products safe.
Don's Cold Storage and Logistics offers the following services:
Sprinkler Fire Protected Facilities
Product Tempering
Import/Export Services
Case Picking
Cross Docking
Slip Sheeting
Rail Service and Trans loading
Real Time Computerized Inventory Management System
EDI Capabilities: Custom File Exchange
USDA Approved Warehouses
Short Haul Trucking Services, Spot trailer service and over the road to 48 states
Container loading and Trans loading
DCSL provides a comprehensive data management system that will allow for real-time tracking of inventory and EDI processing of information for both the warehousing and transportation components of the business.
We have designed our facility so that secure dedicated space can be leased if desired. We offer packages that allow the customer to choose our information systems and labor or the ability to implement their own.
Don's Cold Storage and Logistics rises above the rest in the industry due to its unique niche in the northwest Arkansas. DCSL provides storage, transportation, and logistics solutions. Other companies in the area do not combine these components. This combination of services makes DCSL a true third party logistics provider, assisting the customer with their supply chain needs. The access to both over-the-road and rail transportation services make the company unique in the area.